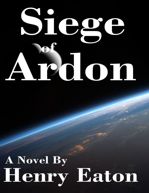 To learn more please click here.
Without warning the alien planet Ardonnar is devastated by violent explosions from their sun Utui. As the Ardonnarians pick up the pieces, they are confronted by Damok-Sai, an alien commander in charge of a hostile invasion fleet with Ardonnar as their next target. The people of Ardonnar fall for the aliens who promise to help in their time of need. However, the true mission of the Ineans is soon learned and the people fight back against the invaders. The Ineans, however, would discover a use for the Ardonnarian people and choose to hold off annihilating them. Choosing instead to enslave them for their insidious purpose. This delay allows groups of resistance fighters, working together across their planet to keep the Ineans off balance. This gives the military, working on a small moon called Anaru, time to build hybrid bombers to attack the Ineans. With time running out for the Ardonnarians, they take the fight to the Ineans.
Paperback $18.00




Hardcover $28.00




PUB (Ereader format) $1.99




Download first 3 chapters
to read for free.